"Perry pontificated about the benefits of TM from the very chair that Pope Francis often communicates his messages. In both cases, their 'wisdom of this world is foolishness before God' (1 Cor. 3:19)." Mike Gendron of Proclaiming the Gospel Ministries.
In 1981, during the Transcendental Meditation (TM) Conference in India, a spokesman stated, "The entire mission of TM is to counter the ever-spreading demon of Christianity."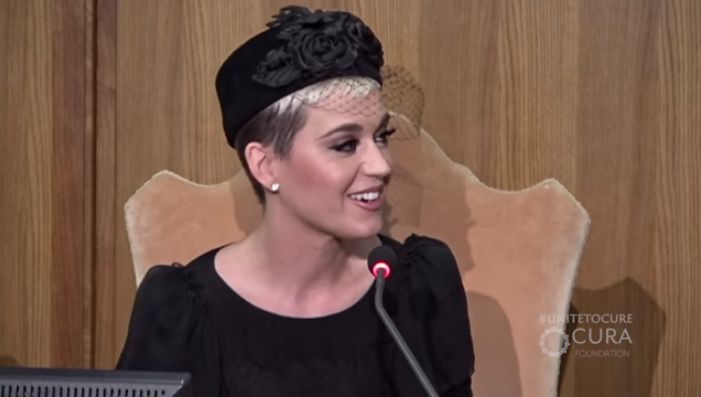 Pop singer Katheryn Hudson, who goes by the stage name Katy Perry and is known for her lesbian experimentation song "I Kissed a Girl," recently spoke on transcendental meditation alongside her mentor at the Vatican's "Unite to Cure conference".
Her appearance, along with others, such as (New Age Guru) Deepak Chopra and Dr. Mehmet Oz, have raised concern about ongoing ecumenism at the Vatican in joining together all kinds of beliefs and practices under one banner.
"Bobby was able to teach me meditation in India," Hudson told those gathered during the talk entitled "Impacting Children's Health Through Meditation Globally." "The stillness that I found is beyond anything I've ever experienced."
"It's helped a lot with my anxiety. Instead of having to turn to [a] prescription, I've been able to turn to this," she said. "It helps incredibly with jet lag … and for all the Italians, it helps with the hangovers."
Hudson asserted during the talk that meditation is not a religion, but is simply "taking care of one's temple."
"I was raised in a Christian household," Hudson outlined, noting that her parents, who identify as evangelists, were present at the talk. "I was raised around the idea that our body is a temple. And I think if our body is truly a temple, we have to take care of it mind, body and soul. And this takes care of your mind."
"I notice when I meditate that my whole brain kind of opens up—it kind of feels like a halo is ignited above my head," she continued. "And it's like I'm clearing out the cobwebs of my neuropathways and finding new neuropathways to ignite."
Hudson said that transcendental meditation has also helped her creativity as a musical artist, "especially when I come out of it."
Her mentor, Bob Roth, praised Hudson, stating that "100 million people really trust" the pop singer, and said that she had helped others get into meditation because of her influence.
"600,000 young kids have learned to meditate, and a lot of it because of your words," Roth stated. "No exaggeration, you have saved thousands and thousands of lives."
"Words are very powerful," Hudson replied. "God created the world with words."
The pop singer also met Roman Catholic leader Jorge Bergoglio, known as Pope Francis, during her visit and tweeted, "Honored to be in the presence of His Holiness @franciscus' compassionate heart and inclusivity."
The event was billed as a global health care initiative and presented by the Vatican's Pontifical Council for Culture, the Stem for Life Foundation, the Cura Foundation and the STOQ Foundation. It featured a number of doctors and health care leaders, including New Age figure Deepak Chopra, and was moderated by CNN's medical correspondent Dr. Sanjay Gupta, a Hindu; talk show host Dr. Mehmet Oz, a Muslim; CBS correspondent Max Gomez, and journalist Meredith Vieira.
View an outline of the conference here.
While the Vatican's three-day conference was attended by priests, biotech representatives and celebrities alike, Mike Gendron of Proclaiming the Gospel Ministries told Christian News Network that he found both the allowance of a presentation on transcendental meditation and the ecumenical speakers' list to be troubling.
"We can only wonder why Katy Perry was invited to a Vatican conference and an audience with the pope," he said. "Perry pontificated about the benefits of TM from the very chair that Pope Francis often communicates his messages. In both cases, their 'wisdom of this world is foolishness before God' (1 Cor. 3:19)."
As previously reported, Hudson, a former Contemporary Christian Music (CCM) artist, spoke at a Human Rights Campaign gala in March 2017 and was presented with a homosexual advocacy award. She pointed to her 2008 hit song "I Kissed a Girl" during her speech as she told those gathered that "I did more than that." Her remark generated both cheers and applause from attendees.
Hudson also made headlines in 2016 when she donated $10,000 to the abortion and contraception giant Planned Parenthood out of fear that the organization might be defunded by the Trump administration.
"Planned Parenthood educated me on my body and my reproductive health, so that I could focus on my dreams and using my voice until I knew the timing was right for me to make a plan to have a family," she wrote on social media. "Without this education, I may have had a different life path."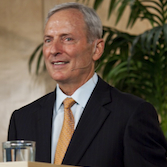 Gendron said that he believed that the allowance of Roth and Hudson's talk on transcendental meditation, along with the other aforementioned speakers, further evidenced Bergoglio's desire to unite all religions and beliefs.
"He is aggressively pursuing his ecumenical agenda for religious unity and not anything to stand in his way. Clearly part of his strategy for a global religion is to cast the net into all of society and unite the world through highly influential people," he opined.
"What better way to suppress the doctrinal differences that divide religions than to promote the ungodly Hindu practice of TM. The practice is embraced by atheists, agnostics and people from a variety of religious affiliations," Gendron stated. "The process opens the mind to the spiritual realm such that any thought can enter. God's word gives a resolute warning to such devilish practices. We are to take every thought captive to the obedience of Christ so that we can destroy speculations and every lofty thing raised up against the knowledge of God (2 Cor. 10:5)."
According to reports, transcendental meditation was first made popular in the 1950's by Hindu guru Mahesh Prasad Varma, also known as Maharishi Mahesh Yogi. He learned the technique from Indian Hindu leader Swami Brahmananda Saraswati, of whom he was a follower, and named his efforts the Spiritual Regeneration Movement. Secular artists such as The Beatles are stated to have been taught by Varma.
Gendron, a former Roman Catholic of 30 years who now teaches Christians how to share the gospel with Catholics, said that the Vatican's universal embrace, as evidenced by the various speakers, is not biblical.
"As the self-proclaimed head of the Roman Catholic Church, the pope's blueprint for building his ecumenical church is much different from the blueprint of the Lord's exclusive church. The true church was never ordained to be driven by man's schemes and methods, but to be made up of all who would repent and believe His Gospel (Mark 1:15)," he stated.
"It is my prayer that Catholics would search the Scriptures to determine a true prophet from a false prophet, the true church from the false church and the narrow way that leads to life from the wide road that leads to destruction (Mat. 7:13-15)."
*******
ADDITIONAL ARTICLE: https://christianjournal.net/culture/celebrity/katy-perrys-soul-overhaul-leads-vatican-promote-transcendental-meditation/
Katy Perry's "soul overhaul" leads her to the Vatican to promote Transcendental Meditation
Over the past couple years we've watched as Katy Perry went through what some call an awakening and others would call a mental breakdown. The core of the issue that Katy has talked about openly in various interviews has been a conflict between two parts of her, one being the 33-year old Hollywood star Katy and the other being the 13-year old Christian identity Katheryn who Katy says was split off by alienation and childhood trauma.
In an interview with Glamour, Katy talked more about letting go of childhood trauma and doing a "soul overhaul."
She explained her desire to undo her stardom saying, "I wonder if I just press the reset button and surrender to love and surrender to loving myself that I would still be able to have all the things that I dream I could have as Katherine Hudson, and I knew it would be a delicate balance."
"If I want to have that true balance, I have to step into being Katheryn Hudson…I'm preparing to do a big soul overhaul very soon that I'm nervous about. I want to emotionally elevate myself. I don't want to hold on to childhood trauma anymore. I want to grow into becoming an adult. I'm preparing myself for having a family of my own someday."
The split within her was so drastic that both personalities were fully developed, Katheryn she initially said was about 11 years old. In a 2017 YouTube therapy session, Katy spoke about wishing to return to and integrate Katheryn who she has shown throughout her music as a pure, innocent fighter, referencing her as her "heart."
Through tears, Katy explained why she shaved her head. "I'm really strong as Katy Perry, but sometimes I'm not as strong as Katheryn Hudson. People talk about my hair right? And they don't like it, or they wish that it was longer. I so badly want to be Katheryn Hudson that I don't even want to look like Katy Perry sometimes. And that is a little bit of why I cut my hair is because I really want to be my authentic self."
The therapist brings up the controversial topic of Katy's soul saying, "you had an instinctual truth, and that caused a spiritual alienation that you had to go against your own calling or your own individual soul."
Katy jumps in, "My soul yeah, but I loved all of it but I always just felt like I was called for more, and it was out there, and I didn't know how to get it, so I guess I started singing."
Some Christians have contemplated whether it's too late for Katy Perry to return to Jesus because soon after she became famous, she did an interview in which she explained her path to stardom. She joined the music industry by going from a gospel singer at 15 that "didn't work out" to pop music after she "sold her soul to the devil." Years down the line, Katy Perry is very openly showing regret about how she attained her fame.
She recently spoke on transcendental meditation alongside Bob Roth at the Vatican's "Unite to Cure" conference. The same core issue was brought up throughout the talk. Katy explained how she uses mysticism and transcendental meditation to "become her authentic self." Before meditation, Katy says she was "short-circuiting" or shutting down while she was in the middle of doing something.
"I knew that I had to take care of my mental health and my mind, which is the greatest asset of my body besides my heart," said Katy.
"When I meditate my whole brain opens up. It feels like a halo is ignited around my head and its like I'm clearing out the cobwebs of my neural pathways and finding new neural pathways to ignite."
It's through this eastern process that she says she is expanding herself. In 2013 she elaborated on her beliefs telling Marie Claire Magazine, "I'm not Buddhist, I'm not Hindu, I'm not Christian, but I still feel like I have a deep connection with God."
Transcendental meditation or TM is a dangerous eastern practice of emptying one's mind, and either intentionally or unintentionally opening it to demonic forces. In 1981, during the Transcendental Meditation (TM) Conference in India, a spokesman stated, "The entire mission of TM is to counter the ever-spreading demon of Christianity."
During the TM meeting at the Vatican, Bob Roth talked about how he is being funded with millions to bring TM to inner-city schools in an attempt to cure violence. Roth plans to take the technique to schools in the Bronx and to Syrian refugees. He proudly notes that his foundation is now an NGO registered with the United Nations. Roth tells Katy that by lending her voice to the cause, she's "saving thousands of children's lives."
The conversation turns to the topic of Katy's age, and she says, "For me, I love young people honestly, if I didn't know how old I was, I'd probably be like maybe 21. I was 13 for a really long time."
According to Katy, in less than a year, the 13-year old that was split off and in hiding has grown up eight years to the maturity of a 21-year-old.
Jokingly Bob Roth says, "I was going to say 6."
"6? No, I'm definitely 7, I'm definitely conscious."
Katy's mom has been with her on American Idol and at the Vatican, where Katy commented that her parents are traveling ministers. While still shrouded in thick New Age ideology, Katy referenced Biblical teaching as she spoke saying that God created the universe with his voice and that she was taught from a young age that her body is a temple.
Seeing the deception that Katy has been under, as Christians, we should pray that she repents and turns to the God of the Bible. We should also pray for the young people she has used her celebrity status to influence and draw astray, may they see through the lies and draw near to Jesus, meditating on the word of God. May Katy's regret serve as a warning for those attempting to follow her path.
TAKEN FROM: https://christianjournal.net/culture/celebrity/katy-perrys-soul-overhaul-leads-vatican-promote-transcendental-meditation/
*******
Katy Perry Meets Pope Francis, Speaks At Vatican Conference.
The singer praised the pontiff for his "compassionate heart and inclusivity." 
Pop star Katy Perry revealed she's a fan of Pope Francis during a trip to the Vatican on Saturday.
The singer praised the pontiff for his "compassionate heart and inclusivity" in an Instagram post for her almost 70 million followers.
For her meeting with Francis, Perry brought along actor Orlando Bloom, her on-again, off-again love interest. The pair have reportedly been spotted together a number of times since they announced that they were taking "respectful, loving space" from each other in March 2017.
Perry, the daughter of two evangelical Christian ministers, was at the Vatican on Saturday to speak at a conference on scientific advancements in health care. The three-day Unite to Cure conference is co-hosted by the Pontifical Council for Culture and gathers thought leaders from around the world to discuss the future of medicine.
This isn't Perry's first brush with the Roman Catholic Church. Since 2015, the singer has been locked in a legal battle with California nuns who are seeking to block the star's purchase of their former convent in Los Angeles. The Archdiocese of Los Angeles sold the hilltop mansion to Perry, while the nuns tried to sell their former home to a local California businesswoman. A judge invalidated the nuns' sale in March 2017 since they did not receive permission from the Vatican, a step that is required by canon law.
The last surviving nun involved in the property dispute, 80-year-old Sister Rita Callanan, told Fox News earlier this month that she is appealing for a meeting with Francis. Callanan hopes the pope will block the sale, saying that Perry's lifestyle "has strayed far from any faith."
Below, Katy Perry appears in a video for the Vatican's Unite To Cure conference with her meditation coach, Bob Roth.
The star was listed as a special guest at the Vatican event over the weekend, alongside an Italian archbishop and a Pulitzer Prize-winning journalist. TV personalities Dr. Sanjay Gupta, Dr. Mehmet C. Oz and Meredith Vieira also spoke at the event.
Perry was invited to speak about how a practice known as Transcendental Meditation has helped her gain control over her anxiety and stress.
"I noticed before I started meditating that I started to short-circuit a little bit," she said during a presentation with her celebrity meditation teacher Bob Roth. "I knew that I had to take care of my mental health and my mind, which is the greatest asset of my body besides my heart. I knew I had to protect it."
Perry said the "stillness" she's found with meditation is "beyond anything I've ever experienced. It has helped a lot with my anxiety," she said. "Instead of having to turn to prescription [drugs], I've been able to turn to this."
Watch Perry's presentation at the Vatican health conference below.
Inside The Former Los Angeles Convent Coveted By Katy Perry.
***
 ~ ♡ ~     
Former New Age Spiritualist, Laura graduated from Strathclyde University, Scotland, earning a BA Honours degree in Psychology.
Many thanks for taking time to read and share the above post. For similar posts and more about Laura, please visit her blog Our Spiritual Quest.
DISCLAIMER:
Laura Maxwell does not necessarily agree with all the information and conclusions presented by friends, guest articles on her blog, TV or radio interviews or her own radio show.
Laura is not paid for writing in books, magazines or appearing on TV, radio or at events. All of her work is of a voluntary nature.
Click on this LINK to see some of her TV interviews.